TIOGA DOWNS GENERAL STORES
ANTIQUE & GENERAL MARKETPLACE

WE ARE CLOSED FOR THE WINTER!
WE RE-OPEN APRIL 7TH, 2018


COME SHOP!
TIOGA DOWNS ANTIQUE & GENERAL MARKET PLACE IS OPEN

EVERY SATURDAY & SUNDAY 10 AM - 4 PM
EVERY FRIDAY 10 AM - 4 PM
at TIOGA DOWNS
2384 B West River Road, Nichols, NY 13812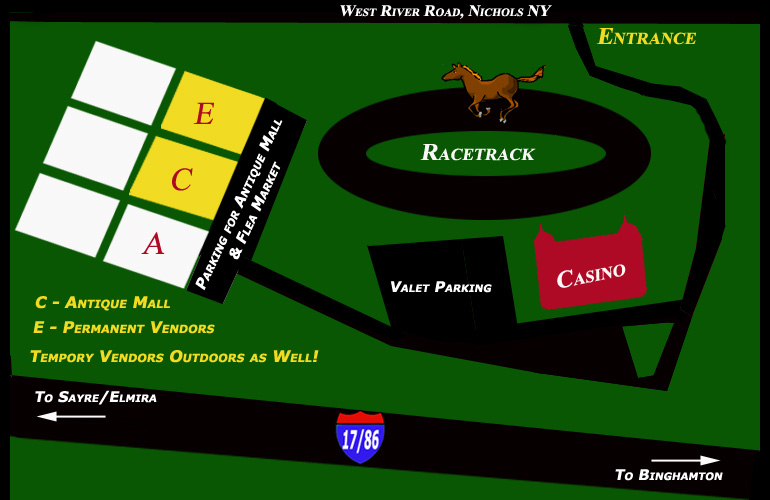 DUE TO CONSTRUCTION, YOU MAY WANT TO USE THE REAR ENTRANCE. THE MAIN ENTRANCE IS FINE TOO.
The Rear Entrance is just a little West of the main entrance on River Road. After entering the rear entrance, follow the paved road around to where our usual parking area is in front of the chain link fence.







WE ARE CLOSED FOR THE WINTER!

WE RE-OPEN 4/7/2018

COME SHOP WITH US!

CALL FRAN 607-239-8353




COME SHOP! COME SELL!

MANY NEW VENDORS!!






TIOGA DOWNS GENERAL STORES ANTIQUE MALL & FLEA MARKET
TWO FULL BARNS!
36,000 SQ. FT OF INSIDE SHOPPING
WITH SOMETHING FOR EVERYONE!!!
LOCATED IN TIOGA COUNTY NEAR BINGHAMTON,
ELMIRA AND ITHACA, NY
Inside spaces measuring 10' x 12' are available month-to-month in the Antiques / Collectibles Mall BARN C or E for $125.00 per month. No used appliances, exercise equipment or used clothing. Restrictions on food -- please inquire.

Outside FLEA MARKET spaces measuring 14' x 20' are available for $10/ day. Outside venders need their own NYSE Tax Certificate of Authority and need to provide a copy to the flea market management.

COME ANY TIME -- NO RESERVATION REQUIRED
SET UP FOR OUTSIDE FLEA MARKET BETWEEN 7 AM AND 9 AM.




DID YOU REMEMBER TO RELOAD?
TOP