.
.
.
.
PRICES DO NOT INCLUDE SHIPPING
CLICK ON PICTURE TO SEE LARGER PHOTO, THEN CLICK "BACK" ON BROWSER TO RETURN.
..
1950's - '60's USED TO BE PLUSH SCOTTY STUFFED ANIMAL, no marks, I like him because he looks loved, decent condition, very worn, no collar, no fluffiness, wear on his snout, ears and feet, most of his tongue is gone, he even has a hole behind one of his front legs and another one under his chin, still he is sturdy and his eyes are there... and he was loved
.
#TR26069 $12.50

.

1940's CHRISTMAS GREETING CARD WITH SCOTTIE, outside shows the door to a home and says "Father", inside is as shown on the left, 5" x 6", used with a Birthday wish in ink inside the layers of the card, fine condition with some wear on the corners, no envelope

#TR28869 $3.00

.

OUTSTANDING 1950 CHAMPION SPARK PLUG AD WITH SCOTTIE, "Winter Ahead", wonderful color and wonderful illustration, 10" x 13", very good condition with 2 small tears in the bottom margin #SC25112 $12.00.... SOLD

SIMILIAR TO LEFT BUT IN BLACK, WHITE, GREY AND RED ONLY, also only 2/3 of the page, 7" x 13, excellent conditon #SC25112b $9.00...

SIMILAR TO AD AT LEFT BUT IN COLOR, 1950 CHAMPION SPARK PLUG MAGAZINE AD WITH SCOTTY, "Summer Ahead", 10" x 13 1/4", excellent condition, small slice into top margin #SC15965c $14.00.... HOLD

SIMILAR TO AD TO LEFT, but longer and only 2/3 the width of the page, 7" x 13", very good condition with some yellowing of the page SC15965b $9.00....


.
1944 PARD MAGAZINE AD with GOLDEN RETRIEVER, IRISH TERRIER, SCOTTIE, AND BOSTON TERRIER, illustration by collectible artist MORGAN DENNIS, 5" x 13 3/4", excellent condition with some roughness around the edges and some yellowing of the page #BT30188 $7.50....

SCOTTIE DOG IN 1952 JELLO AD, 10" x 13 1/2", excellent condition

#SC29189 $7.50


.
VERY CUTE 1950's - '60's SCOTTIE PUPPY FIGURINE WITH TAM AND SCARF, marked "A280", probably made in Japan, 4 3/8" high, excellent condition with some wear on the cold paint of the tam
.
#TR27325 $12.50

.


.
1930's - '40's SHABBY CHIC DECORATIVE UNSTUFFED PILLOW WITH SCOTTY TERRIERS AND CATS, navy blue with yellow and gold flowers, can be made into a pillow OR used as a sham. 18" x 15", fine worn condition with the white a little yellowed and the blue a bit washed out. Still very cute

#SC27042 $12.00 HOLD

.

WEST HIGHLAND TERRIER PUPPIES in 1954 OLD GOLD AD, 10" x 13 1/2", fine condition with a white spot which is a miss from the printing process, small dog ear on bottom right corner

#TR30205 $4.50

1945 "FROM HEAD TO TOE" GAINES AD w/ SCOTTIE, page is not a pure white as came out in my scan, 10 1/4" x 13 1/2", fine to very good condition with tight left margin and yellowing of the page

#TR26339 $4.50 $9.00

1961 FRISKIES AD WITH SCOTTIE IN TAM, 10" x 13", very good conditon with some minor defects #SC26354 Quantity 2 $4.50 ...

1919 SCOTTISH TERRIER, WEST HIGHLAND TERRIER AND SKYE TERRIER, from National Geographic magazine, by Louis Agassiz Fuertes, 5 1/2" x 7 7/8", excellent condition

#NG25503 QUANTITY 2 $10.00 each


SAME AS ABOVE, excellent to fine condition with w crease on the top left corner, still lots of room for lots of margin if framing or just cropping

#NG25503c $8.50
.
,
.
.
DID YOU REMEMBER TO RELOAD?
For more information about Deco Dog's fine ephemera and Art Deco collectibles, e-mail Wanda Husick (wanda@decodog.com)
or call (607) 427-2573 (Verizon cell NO TEXTS!) (11 am - 1 am Eastern Time).
.
.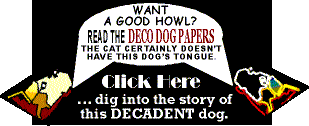 .
.
.
DOG DIRECTORY
.