.
.
.
.
PRICES DO NOT INCLUDE SHIPPING
CLICK ON PICTURE TO SEE LARGER PHOTO, THEN CLICK "BACK" ON BROWSER TO RETURN.
..
1947 IDEAL DOG FOOD AD with SCOTTISH TERRIER, AIREDALE, COCKER SPANIEL, ENGLISH SHORT-HAIRED POINTER, and COLLIE, ad is not cut off on the sides as shown -- there is a margin on all sides of the ad, about 10" x 13 1/2", excellent condition

#30547 $7.50 .....


.
SCOTTISH TERRIER IN PARKE, DAVIS & COMPANY MAGAZINE AD, 10 1/4" x 13 1/2', excellent condition with very very light crease on bottom left corner (barely there) #TR26362 $3.50

SAME AS ABOVE, excellent condition with a light bump on the top edge, some yellowing and a tiny paper defect (shows up as a light grey spot) on the top edge #TR26362b $3.50
.

1940'S CERAMIC SCOTTIE FIGURINE, marked "Japan", 4 1/2" long, very good condition with crazing and a chip on one of his back feet that someone has masked (not me), you do not really see because of the mask job, I felt it first

TR15425 $3.50 as is

.


.
1950's TERRIER TYPE DOG PORCELAIN FIGURINE WITH THREE DOGS, 2 1/2" tall, excellent condition

#TR26062 $5.50


.
HAND PAINTED WOODEN SCOTTIE FIGURE, no idea of age except that it is probably 1980's or after, 4" high, excellent condition

#TR26066 $4.50


.
1936 ILLUSTRATION OF LAKELAND TERRIER, WEST HIGHLAND WHITES AND STANDARD SCHNAUZERS BY EDWARD HERBERT MINER from National Geographic magazine. Illustration is 5 1/2" x 8" , sheet is 6"x 10". It is in mint condition

#NG15885 Quantity - 3 $3.50

.




VINTAGE (1950's ?) POSTCARD OF SCOTCH TERRIER, illustrated by Rivst, excellent condition with very light wear on the edges and corners #BW31130 $5.00 .


.
1940's -'50's, porcelain terrier family, marked "'made in Japan", 2 5/8" high x 3 1/4" long, excellent condition

#TR25260 $5.00 HOLD

1949 HUNT CLUB DOG MEAL AD with SCOTTIE, SPRINGER SPANIEL, BOSTON TERRIER, ENGLISH SETTER, GREAT DANE, WIRE-HAIRED FOX TERRIER, COCKER OR FIELD SPANIEL AND COLLIE, about 10" x 13", excellent condition #BT30549 $7.50....

1930's - '40's POTTERY WHITE SCOTTY FIGURINE, no marks, probably made in Japan, 2 1/2" H x 3 1/2" L, near mint condition

TR25720 $5.00

ANIMALS CLOTH READING BOOK WITH SCOTTIE AND COLLIE-TYPE DOG ON THE COVER, I am not sure of the age -- I am guessing 1960's, I cannot read the artist's name (something like C. K. Sch ...), bottom of the title page also says "The Hampton Publishing Co., Book w - 1 Washable", 7" x 10 1/2", 10 cloth pages of animals from cats to kangaroos, the dogs do not show up again except on the back cover, good to fair condition with light soiling on the covers, a dark spot on the edge of some of the pages, some wear on the edges and corners, overall it looks nice even though it is not perfect #SC30959 $8.00 ....
.
.
DID YOU REMEMBER TO RELOAD?
For more information about Deco Dog's fine ephemera and Art Deco collectibles, e-mail Wanda Husick (wanda@decodog.com)
or call (607) 427-2573 (Verizon cell NO TEXTS!) (11 am - 1 am Eastern Time).
.
.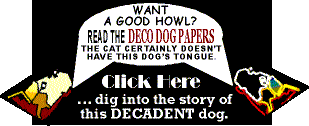 .
.
.
DOG DIRECTORY
.