vintage ephemera and dog collectibles
.
.

..


MINIMUM ORDER OF $7.50


I NOW ACCEPT VISA AND MASTERCARD PAYMENTS THROUGH
PayPal


THERE IS A $10.00 MINIMUM TO USE PAYPAL

.

.

.

PRICES DO NO INCLUDE SHIPPING
CLICK PICTURE TO SEE LARGER PHOTO
THEN, CLICK "BACK" ON THE BROWSER TO RETURN TO THIS PAGE

.
..
.
..

HARD-TO-FIND BOOK THE BEAGLE IN AMERICA AND ENGLAND, by H. W. Prentice, 1st edition, copyright October 1920 by H. W. Prentice and W. A. Powel, 6" x 9 1/4", 246 pp + 213 pp of Appendix + ad pages, green cloth over boards with embossed gold decoration and title on cover, first 246 pages are about the beagle with a lot of wonderful pictures and illustrations (please feel free to request a scan of the table of contents), the appendices are the lists of Beagle Bench winners and Beagle Field Trial winners from 1890 to 1919, very good condition with wear on the spine, corners and edges, some slight soiling of the covers, small separation of the cover from the pages (see photo of front end page), two previous owner's names and addresses, interior is in fine condition with a few pages with slight soiling and foxing and a few dog-eared page corners #HD27352 $140.00
ALL ITEMS ARE VINTAGE AND FROM THE TIME PERIOD NOTED IN THE DESCRIPTION

MINIMUM ORDER OF $7.50 UNLESS I DO NOT CARRY ANY RELATED ITEMS

THERE IS A $10.00 MINIMUM TO USE PAYPAL

.
.
FOR MORE INFORMATION about Deco Dog's fine ephemera and Art Deco collectibles, e-mail Wanda Husick (wanda@decodog.com) or call (570) 882-9375 or (607) 427-2573 (Verizon cell) 11 am - 1 am Eastern Time.
.
Please review my ordering, return and shipping policies
and my disclaimer prior to ordering

.
APPRAISALS
.
..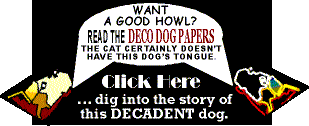 .